July 28, 2021
The David Thompson Highway (Highway 11) is a beautiful stretch of road that stretches from Red Deer to the Banff National Park boundary. Travelling west along the highway from Rocky Mountain House, you are greeted by rolling foothills, dense forests and breathtaking mountain views. The drive along this road is scenic, and, if you're lucky you may get to witness some of the best wildlife sightings this area has to offer. Read on to learn more about the wildlife most commonly seen along the wonderful David Thompson Highway.
White-tailed and mule deer are often found feeding along the highway as you head west. The groomed roadside offers many opportunities to snack on tasty dandelions or other forbs, as well as offers shelter from predators who avoid human disturbances. Moose are sometimes seen in this area but are much less common. Be careful when driving early in the morning or late at night as these animals often run across the road without warning. If you see one or two crossing, always wait to see if young ones are following.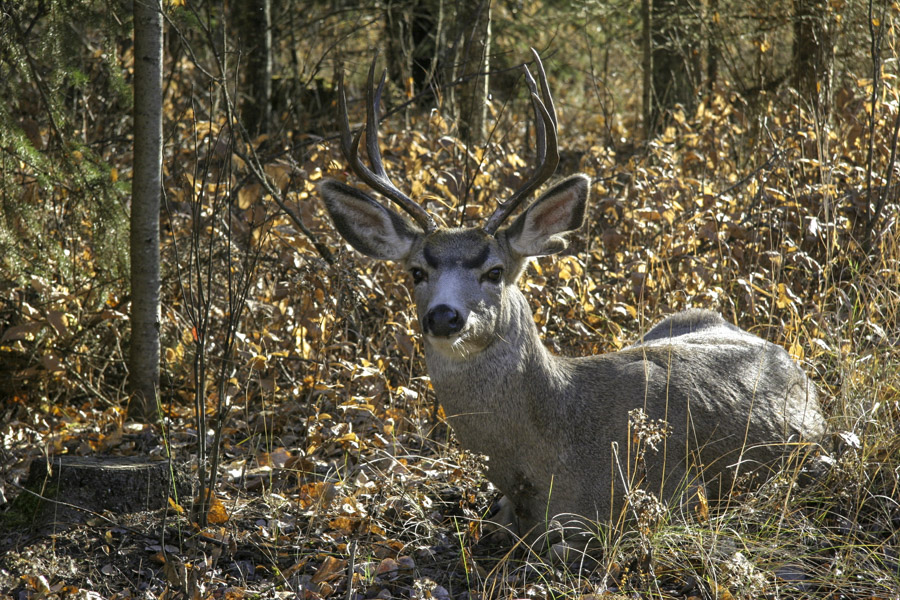 As you get closer to the mountains, you may see some horses grazing beside the road. These aren't the horses you see on most farms, these are feral horses. The population in this area is dense and the majority are descendants of working horses used in the early 1900s for commercial purposes that were set free when operations ceased (Government of Alberta, 2021). Unlike wildlife who migrate, these horses stay in the same areas year-round, so if you travel this highway frequently you'll see the same horses again and again.
During the warmer months, as you approach the blue waters of Abraham Lake, you may notice some large ground squirrels along the road on rock outcrops. These adorable creatures are called hoary marmots, who hibernate in the winter and emerge from their slumber in the spring. They spend most of their time foraging for food or basking in the sun. They are sometimes hard to spot because of their colouring, but once you do you'll be delighted by their cute and curious nature.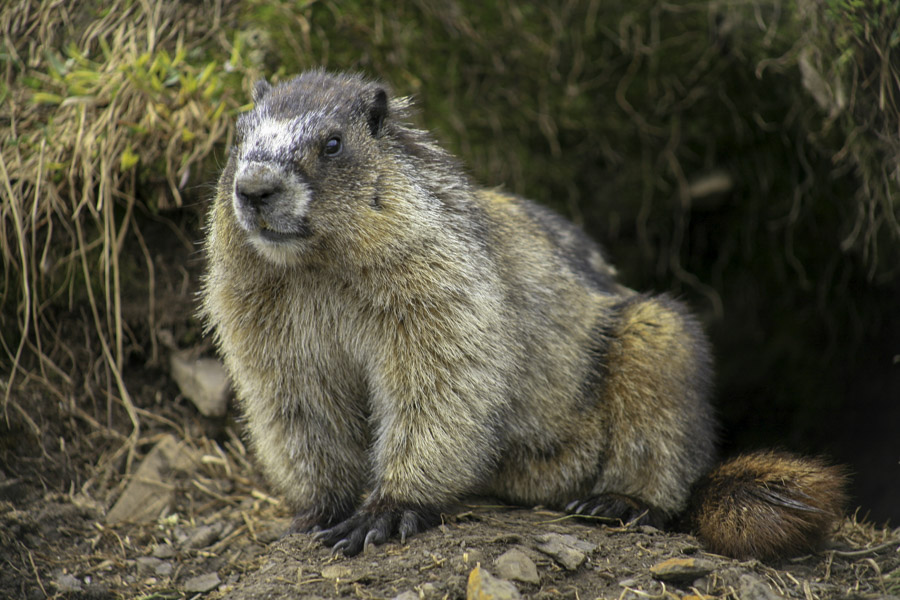 Bighorn sheep are commonly seen along Abraham Lake. Be careful as you approach blind corners, as these animals are regularly along the road licking natural salt deposits. If you see a herd, slow down, use caution and do not get out of your vehicle! These animals are unpredictable and can "ram" vehicles or people when threatened.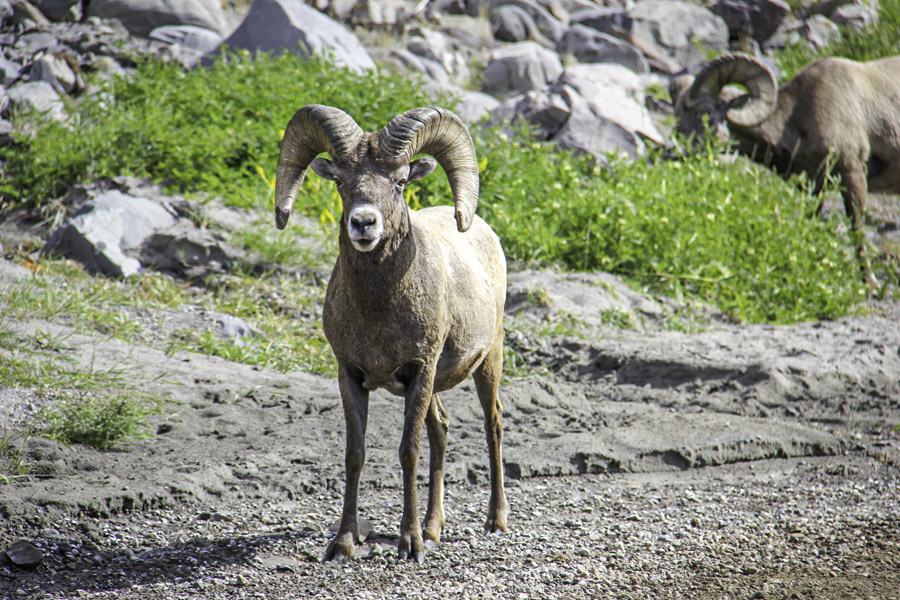 Occasionally you may spot mountain goats in the area. Typically, these agile creatures are high up on mountains, balancing on rock ledges, but sometimes come down the mountain. Their shaggy white coat makes them stand out among the rocks, so keep an eye out!
The David Thompson corridor is home to larger predators such as wolves, coyotes, foxes, cougars, grizzly bears and black bears. While the others are more elusive animals, you'll often see grizzly bears and black bears along the side of the road, foraging with their cubs or travelling solo.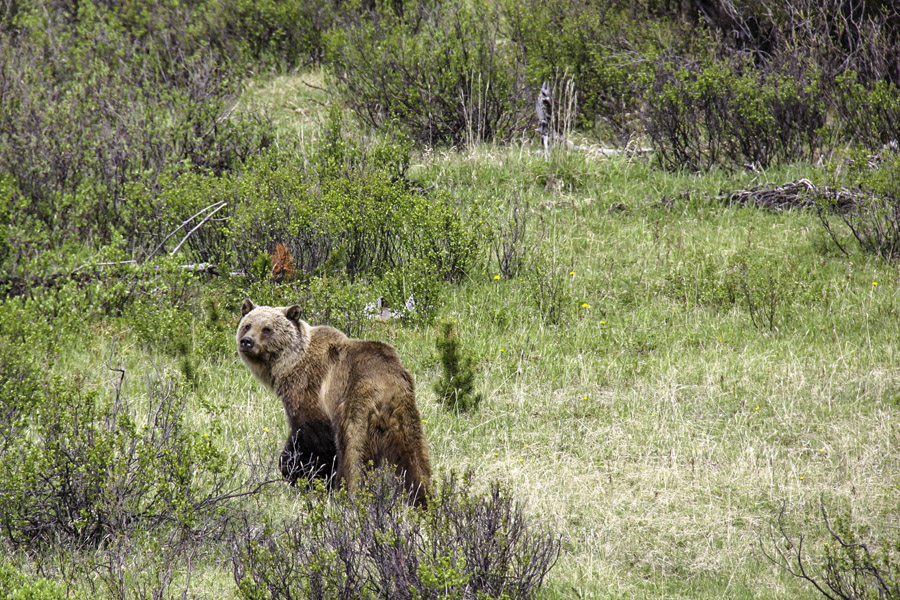 The Highway 11 area is truly magical and each day out in this region can offer some amazing experiences. Please remember that all highways can be hazardous and it is important to remind yourself and others of safe highway travel and etiquette.
If you do see an animal along the highway and wish to view it, please wait until there is a safe place to pull off the road. Stopping along the road poses a significant safety hazard to other drivers.

Do not approach or feed any animal you come across.

Even if they look tame and calm, they are wild animals and are well equipped to protect themselves and their young if they feel threatened. Bears in particular that become habituated with humans and their food become aggressive and dangerous, and often have to be put down. Remember the saying, "a fed bear is a dead bear".
Please do your part to keep wildlife wild.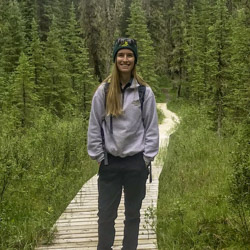 Sarah Julin
Sarah is a Parks Recreation and Resources Officer (PRRO) in the Central Region.