Aquatic Invasive Species
Alberta waters are at risk of becoming infested with Aquatic Invasive Species. The movement of watercraft into Alberta is the highest risk of infecting our waters.  
Always Clean, Drain and Dry any equipment used in the water before moving between water-bodies t

o prevent the spread of aquatic invasive species and whirling disease.

Whirling disease has been detected in Alberta. Transferring fish, mud, or water between water-bodies can spread this untreatable disease.
What is an Aquatic Invasive Species?
It's a non-native species or disease that threatens the:
Diversity or abundance of native species and the ecological health of infested waters
Recreational, agricultural or commercial activities dependent on water in lakes, rivers, streams and canals
Why are Aquatic Invasive Species a problem?
Aquatic Invasive Species are a threat to the economy; especially agriculture, tourism and recreation. They destroy our natural lake ecosystems and fisheries. Managing the impacts of these species and diseases could cost millions of dollars each year.
The species of greatest concern in Alberta currently are two mussels and one plant.
Quagga Mussel and Zebra Mussel (Webpage from Ontario's Invading Species Awareness Program)
Eurasian Watermilfoil (Fact Sheet by Alberta Invasive Species Council)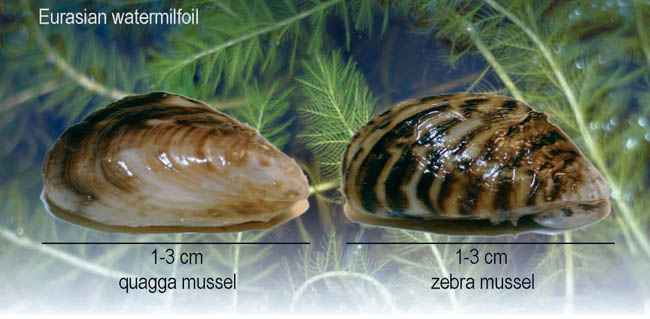 Does Alberta have Quagga or Zebra Mussels?
Not yet, and let's keep it that way. Prevention is the most effective way to manage AIS. We currently have some infestations of lower risk aquatic invasive species that are being managed locally - purple loosestrife for example.
Whirling Disease in Alberta
Whirling disease is present in Alberta. Containment and prevention are the best response as there is no treatment for this disease.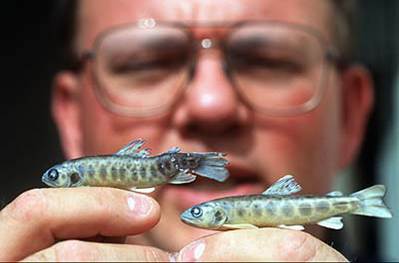 Myxobolus cerebralis is the parasite that affects salmonid fishes, such as trout, salmon and whitefish. Clinical symptoms of whirling disease include a blackened tail, sloped head, crooked tail and an abnormal whirl or tail-chasing behaviour. Infection by this parasite can lead to fish mortality.
How are Aquatic Invasive Species and Whirling Disease spread?
Invasive species and diseases are primarily spread through transportation of water-based vessels or gear moved from infected waters to unaffected areas. The movement of infected fish, water or sediment may also spread invasive species and whirling disease. 
Mussel infected lakes have been found in Manitoba (Lake Winnipeg), Utah, Southwest United States and Eastern North America. 
Boaters are discouraged from transporting boats from these areas.
How can I prevent the spread of Aquatic Invasive Species and Whirling Disease?
Clean, Drain and Dry your boat and all equipment used in the water before departing a site.
Pull the Plug! It is illegal to transport your watercraft with the drain plug still in place. Remove the plug to ensure all standing water is drained. The microscopic spores of whirling disease, as well as the microscopic veligers of invasive mussels cannot be seen by the naked eye and will survive for days in a watercraft's standing water.
AIS like Quagga and Zebra Mussles can spread quickly and can live out of water for up to 30 days.
Whirling disease spores can remain viable in water anywhere from 3 to 30 years.
Learn to identify Aquatic Invasive Species.
What is Alberta Parks doing to address this issue?  
Alberta Parks staff are monitoring high priority water bodies in every region of the province.
Two inspection teams are working in Alberta Parks. One team is based in the North East and East Central Regions.  The other is based in the South and Kananaskis Regions.
Aquatic Invasive Species (AIS) Inspectors provide education at special events. They also conduct boat inspections at various Alberta Parks boat launches in the province.
Conservation Officers and Park Services Rangers are trained in boat inspections and decontamination protocols. They are ready to respond if Aquatic Invasive Species are detected.
Alberta Parks is collaborating with Alberta Environment & Parks and other government and external agencies in these efforts.
Contacts to report something suspicious on your boat or equipment, or for more information
Alberta:  1-855-336-2628 (BOAT)
Montana:  1-406-TIP-MONT (1-406-847-6668)
British Columbia:  1-888-933-3722
Additional Resources