Stony Mountain Wildland Provincial Park is accessible by travelling south of Fort McMurray on Hwy. 63 for 53km, and east on forestry road for 10km where a dead end can be used as a staging area. The remaining trail into the park is approximately 8 km, accessible by OHV/snowmobile. This location has no designated campsite, please be respectful with random camping. Stony Mountain Wildland Park preserves excellent examples of patterned and non-patterned fens. The park includes part of the range of a small caribou herd.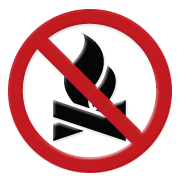 Updated: May 17, 2019
The ban prohibits ALL open fires, including campfires and charcoal briquettes.
Portable propane fire pits and gas or propane stoves and barbeques designed for cooking or heating are allowed.