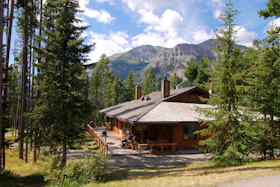 By following Alberta's health guidelines, we have determined that William Watson Lodge can safely reopen for a limited time this summer.
The lodge will be open for guests from July 2 to July 26. Visitors must make reservations prior to arriving at the lodge.
The comfort station, comfort camping cabin and day lodge (with the exception of reservations) will not open and we will not loan out equipment at this time.
Staff will follow Chief Medical Officer of Health orders to prevent the spread of COVID-19. This includes enhanced disinfection of high touch surfaces, enhanced cleaning of cabins, limiting check in/check out to one family member and no access to amenities such as the lounge, kitchen and dining areas.
The lodge will close early this year for renovations. The new lodge will enhance the overall visitor experience and safety, and bring the facility up to today's international accessibility standards. The lodge will be closed during the two-year construction period. The Government of Alberta is investing $6 million into the project.
William Watson Lodge provides year-round, barrier-free, wilderness lodging for persons with disabilities, seniors and their families. It's situated in beautiful Peter Lougheed Provincial Park, overlooking Lower Kananaskis Lake. The goal of this facility is to connect people of all abilities, all ages and all cultures to recreational opportunities in nature.
William Watson Lodge, named after an Albertan who worked to improve the social and environmental conditions for persons with disabilities, includes
22 accessible cabins
11 accessible RV (full-service) campsites
1 comfort parks trailer
1 accessible comfort camping hut
Accessible picnic sites
More than 20 kms of accessible trails
Alberta Parks Inclusion Plan: Everyone Belongs Outside aims at increasing access, inviting participation, and building capacity for inclusion in all provincial park facilities, programs and experiences. William Watson Lodge and the trails surrounding the facilities are a flagship for inclusion and provide the benchmark for Alberta Parks in medium to large scale accessible facilities.
Phone
Phone 403-591-7227
To be connected toll-free in Alberta, dial 310-0000 followed by 403-591-7227
Reservation Hours
Monday to Friday 8:30 am-12:00 noon and 1:00 pm-4:00 pm (excluding statutory holidays)
Mailing Address
William Watson Lodge
Peter Lougheed Provincial Park
P.O. Box 130
Kananaskis Village, Alberta, Canada
T0L 2H0
More Info
Day Use Facilities
Picnic sites are available to anyone on a first come-first served basis.
The group fire-circle is available to William Watson Lodge guests and campers.
The main lodge can be booked for day use by large groups of persons with disabilities or Alberta seniors. One third of the group must be disabled or seniors.
Reservations
Reservations must be made in advance.

Reservations may be made by phoning 403-591-7227 or in person.

Reservations are NOT accepted by fax or e-mail.

No in-person

bookings can be made on the first booking day

.
The maximum number of reserved nights for each "season" are

June through September

One booking for a maximum of 7 days

October through January

one booking for a maximum of 7 days OR
two bookings totalling a maximum of 7 days

February through May

one booking for a maximum of 7 days OR
two bookings totalling a maximum of 7 days

14 days notice is required to cancel a reservation.
Reservation Priorities
For persons with disabilities residing in the province of Alberta

Reservations may be made up to 4 months in advance for severely disabled Albertans (nonambulatory, legally blind, profoundly deaf, dependently cognitively disabled). For example, to book for the month of July, call on the first working day in April.
Reservations may be made up to 3 months in advance for less severely disabled Albertans (semi-ambulatory, medically fragile). Please complete the eligibility form available from the Lodge.

For Alberta seniors (65 years and older)


Reservations may be made up to 2 months in advance, space permitting.
Larger Groups
May book cabins if available.
One third of group must be disabled or seniors.
Maximum group size

40 midweek
32 on weekends
12 during the summer and on statutory holidays